Interesting topics of Conversation
International Women's Day
March began with an inspiring display of empowerment on International Women's Day. At The Pleasure Project, we chose to speak up and challenge the pleasure gap and pleasure stigma against women. Women wanting good, safe sex is not something to be shamed but celebrated. We have strived for equality between men and women in the world place – but this needs to be extended to the bedroom:
80% of men orgasm during casual hook ups, compared to only 40% of women.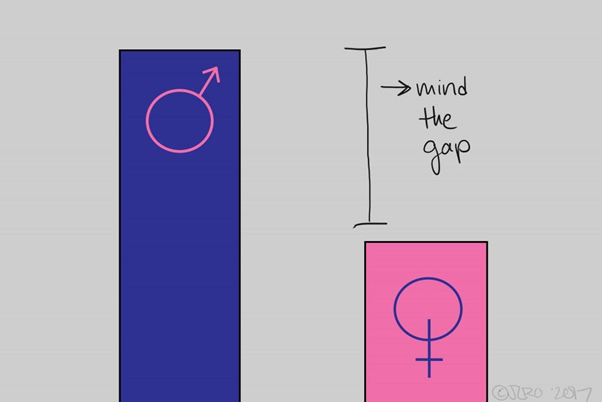 Cis heterosexual women were the least likely to orgasm during sex. There is still a lack of understanding of the female anatomy and orgasm: 30% of men said they thought penetrative sex was the best way to make females orgasm, when it has been shown that over half of women need clitoral stimulation in in order to reach climax (Broster, 2020). This lack of knowledge is emulated in sex education: sexual intimacy and the female orgasm is still a largely untaught subject – sex education mainly focuses on sex for reproduction.
We agree with Alex Broster, writer on women's reproductive health, when she states "Silence surrounding parts of your body and sexuality can have serious health implications. It creates a culture of shame and guilt attached to something that's healthy" (Broster, 2020).
However, there is a slow cultural shift with female masturbation, pleasure, and orgasm being more spoken about in the sexual reproductive and health world.
Things to check out:
CLIMAX: is a new sex education series which creates a safe and caring space to champion female pleasure, using reliable scientific studies that encourage exploration of body and pleasure.
Community Life Project: Helping husbands become better lovers: teaching men about sexual pleasure in the context of marriage. Lagos (see more organisations on our global mapping of pleasure here.)
DKT International Creative Advertising Campaign
DKT DRC – Batela Lobi Na Yo Plaisir (2021) – YouTube
Through these videos DKT are aiming to put the 'sexy' back into safer sex through these creative campaigns. The first video features a steamy storyline from the Democratic Republic of Congo which highlights the main reason why people use contraception in the first place: for pleasurable, good, safe sex. This is a creative way to promote contraception in a sex positive way. Sex is so often emphasised in narratives to promote products, which it has nothing to do with, but removed from the areas which it belongs most: sex education and contraception promotion.
'Enjoy pleasure and intimacy in all peace with family planning methods'
This powerful quote from the film is inspiring in the advertisement of contraceptive methods as it recognises why people use contraception: safe sex and why people have sex: pleasure.
These short, steamy, sexy, informative films are a great way to show how pleasure is intertwined with contraception, allowing to people to have good, safe, sex.
SASHA x WAS webinar: Sexual Consent: Research, Education and Sexual Health
This webinar was the second one in the Southern African Sexual Health Association (SASHA) and World Association for Sexual Health (WAS) webinar series, focusing on the consent. Sexual Consent is a very important topic, gaining much global attention, and emphasised by WAS and SAHSA as part of the recent declaration of sexual rights and declaration of sexual pleasure.
Pleasure is intrinsically linked to safety, privacy, ability to negotiate relationships: consent. Which is important for sexual health and wellbeing.
One of the speakers was Professor Terry Humphries, who researches sexual behaviour and psychology, with a focus on sexual consent. In the conference he spoke of his research into how young adults navigate sexual encounters and consent – with a focus on heterosexual couples in North America.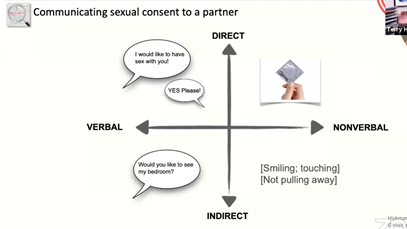 Students in the study identified a strong understanding of sexual consent but in description of real-life sexual encounters there was no affirmative sexual consent, students instead relied on more indirect, nonverbal consent queues. He brought up an important point that literature often focuses on women's consent giving, with an assumption that man's consent if a given.
The conclusion of his talk was very empowering; sexual consent is hard to navigate, so sex education must be comprehensive and consider this and challenge the ideas of gender norms and male dominance.
With the recent news about a court ruling in Minnesota, America, that a Minnesota man can't be charged with felony rape because the women chose to drink beforehand, (Lati, 2021) I found this section of the talk compelling. Research into sexual consent and education of consent in a sex positive way to help achieve negotiation of good, safe sex could not be more important.
You can find the webinar on their Facebook page here.
Pleasure Picks of the month
I may destroy you: An important watch.
International Women's Day, while empowering, also shone a light on disparities still experienced by women around the world, the sexual consent seminar highlighted the importance of consent and research and important conversations triggered by the Sarah Everard murder (see our blog post here) all inspired me to re-watch 'I may destroy you' a British- American drama television show. Although this show aired a month ago: we couldn't recommend it more now. A drama that brings important conversations surrounding sex to the public eye in a watchable, thought provoking manner, which also champions a black owned production and culturally diverse cast. The show is breathtaking.
The 12-episode drama, created by Michaela Cole, is a raw, powerful, thought provoking drama which watches a young woman, Arabella, seek to build her life after being raped. The drama centres around the lives of 3 friends, exploring their sexual encounters and experience, or lack thereof, of sexual consent.
In this organic depiction of the contemporary world and sexual landscapes the show will make you laugh, cry, question: and most importantly learn. Watching this show, myself and my friends had our eyes opened (like the characters in the show), that when a man takes of a condom during sex without permission, this is sexual assault. Highlighting further the gaps in the current sex education programmes in the UK and pointing towards a problem with global relevance– this show should be watched by all, and all sex educators as an extraordinary example of a show which needs to be watched, especially in the current climate.
The show can be watched on BBC Iplayer, Amazon Prime, Google Play and Youtube (where you may find the whole series if you are not in the UK)
Sh! Women's Erotic Emporium
 Ky Hoyle founded Europe's first women focused sex shop in London: Sh! Women's Erotic Emporium. Unfortunately, she had to make the decision to close the shop last year because of COVID. However, she has now began courses online which help women who are struggling to orgasm have conversations about pleasure – she now has clients from all over the world.
Linking to our discussion on the pleasure gap, in an interview with the Daily Mail Ky Hoyle recognises that porn creates unrealistic expectations of orgasms and, furthermore,  the size and complexity of the clitoris was only discovered in 1998! So, she teaches women about their anatomy and how to learn how to orgasm: as it is not just a simple process. She now helps over 500 women a week to orgasm!!
Follow their sexy, educational Instagram account here: Sh! (@shwomenstore) • Instagram photos and videos