We are well into the new year but let us take a moment to reflect on 2022 and prepare for this pleasure-centered year ahead of us!
Reminiscing is sexy
2022 has been a powerful, earth-shattering year for The Pleasure Project. February 14th Valentine's  Day was the launch of our research with WHO, We received an overwhelmingly positive response from the media, and our work gained additional credibility; it is thanks to our 10+ years of tireless grassroots, self-organized positive disruption work that we are seeing our approach valued and endorsed. The pleasure wave is (finally) spreading and so many actors from the public health world, the pleasure and sex industry, academia, and activism are ready to ride it with us.

February truly was the love month, as not only did our systematic review get an enthusiastic reception, but our Pleasure Fellows Ipsita Divedi, Rhiana Mills, and Leeza Mangaldas launched 100 Stories of Pleasure, a sexy library of pleasure memories submitted by lovers around the world. It doesn't end here though: TransEquity Uganda celebrated Saint Valentine's by holding focus discussion groups with trans women on Sexual pleasure, supported by us and Amplify Change.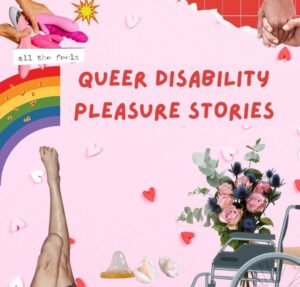 In March, we launched The Pleasure Principles! What a whirlwind. The Principles materialized our knowledge and expertise; we created them in consultation with several groups and organisations in the hope that they would inspire and guide people and organisations to embark on the journey toward a sex-positive, pleasure-based approach to sexual health.
International Planned Parenthood Federation Africa Region's Treasure your Pleasure campaign, launched on the 15th of March, has been a fun, juicy, and incredibly successful example of the practical application of the Principles to the programmatic work of an organization.
We had the pleasure to partake in the seminal discussion during the 49th session of the UN Human Rights Council "Taking stock of comprehensive sexuality education during the COVID-19 pandemic". There, we discussed the vital importance of pleasure in CSE, how pleasure can be an indicator of empowerment, and how pleasure-based SRH interventions may be particularly effective with vulnerable populations who have experienced trauma.
Continuing on a very high note, thanks to the partnership with The Case for Her and Amplify Change, eight grassroots Amplify Change grantees received dedicated funding to integrate pleasure-based approaches into their projects. Thank you to our pleasure accomplices at The Case for Her for being early supporters of our mission and to Amplify Change for being among the first organizations to adopt the Pleasure Principles.
Things got very spicy in June, between presentations by us and our Pleasure Fellows at UN CSE symposium on global access to comprehensive sexuality education and A Pride month insta live  Joao Alves Neto summer fellowship! Joao Alves Neto is a Ph.D. Psychiatrist and Psychotherapist, Researcher at University of Minho (Portugal) and Professor at FACEFI (Brazil) worked with us on an evidence paper on the links between pleasure and mental health. Together with Anne, Joao contributed to a webinar organized by AVAC titled "The Research Says Yes, YES, YES – Just Like That" focusing on HIV prevention, pleasure and SRHR.
September was a huge month for pleasure: we started the month with an unbelievable bang…International Planned Parenthood federation, the largest provider of SRHR services globally endorsed The Pleasure Principles, publicly committing to pleasure-inclusive sexual health and rights ahead of World Sexual Health Day! And speaking of World Sexual Health Day, pleasure   Our Principles were quoted as a key text sent out by WAS, and our founder Anne was featured in a podcast by Sexual and Reproductive Health Matters (SRHM) shining a light on pleasure as a core element of SRHR.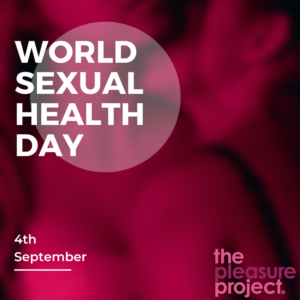 September wasn't over yet and Pleasure Fellow and founder of TabuTabu, Laura Ramos Tomás, together with Anne, had the pleasure of speaking online to the opening class of the Especialização em Sexologia Clínica (Clinical Sexology Postgraduate Course) at CEFI – Centro de Estudos da Família e do Indivíduo (Center for the Study of Family and Individual) in Porto Alegre, Rio Grande do Sul, Brazil, discussing how to bring the Principles into action with her project Ana Autoestima.

Our very first Pleasure Principles Conveni ng of the endorsing organizations took place in October, when 20 organizations endorsing the Pleasure Principles came together to learn, share tools, implement pleasure into their work and collectively act for pleasure globally. 2022 was an incredible year not only for our endorsing organizations but also for our donor base!
Our year ended on an incredibly high, juicy, sexy note: The Pleasure Project attended the Berling Porn Film Festival, Leeza Mangaldas launched "The Sex Book: A Joyful Journey of Self-Discovery", and our work was featured in The New York Times AS WELL AS in The UK Guardian, less than a week apart from each other and perfectly timed with our presence at the International Conference on Family Planning (ICFP)!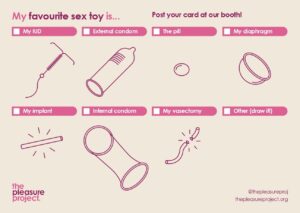 Wow. What a climax.
Fantasies and erotic longing
2023 holds a lot in store for The Pleasure Project: we're looking to launch our renewed business plan with an expanded donor base. We look forward to growing our team, expand the community of practice endorsing The Pleasure Principles, work strategically on our communication, and launch the second Pleasure fellowship scheme that had allowed us to get in touch with incredible pleasure activists all over the world, and so much more.
We are ready to reap what we sowed for years advocating for pleasure to be put on the map, holding signs at conferences that loudly explained why pleasure was a key aspect of SRHR; now it's the time for implementation, now it's the time for action. With the pleasure wave expanding and growing, we are on the crest, ready to share tools and knowledge and create a community of pleasure accomplices.
Here's what the co-directors have to say about 2022 and what they are looking forward to the most about 2023!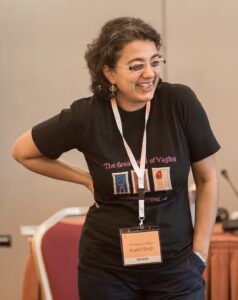 Arushi
"In-person connections became possible again in 2022 which was exciting because we could frolic with several of our pleasure companions at the ICFP. In 2023, we are expanding our horizons and our team, and look forward to some more steamy and sensational partnerships."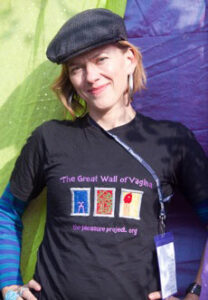 Anne
"In 2022 we saw the pleasure ecosystem expand with delight – with pleasure fellows, pleasure endorsing organisations and a huge number of media outlets celebrating our work. We kicked off the year by showing without a doubt that pleasure-inclusive sexual health saves lives, showing it's not only a nice treat 🍰 but needs to be part of every sex education lesson or sexual health service. We are working to take us all there."