Positive Pleasure: The Well Project Signs on to The Pleasure Principles, Welcomes the Pleasure Project as a Partner
By Olivia G. Ford, The Well Project
Pleasure is a human right and an essential aspect of justice. The Well Project is thrilled to announce our endorsement of The Pleasure Principles – authored and championed by The Pleasure Project, an international education and advocacy organization working to eroticize safer sex which also recently joined our circle of organizational partners!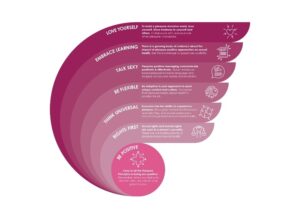 The Pleasure Principles clearly name values and approaches that we strive to embody in our work:
Love Yourself
Embrace Learning
Talk Sexy
Be Flexible
Think Universal
Rights First
Be Positive
Our endorsement provides an important level of accountability to being guided by these values. The timing could not be better to make these intentional connections, as The Well Project continues to lean into a focus on pleasure that has been part of our work for most of our 20 years in existence.
Our work alongside and on behalf of women living with HIV across the gender spectrum has always been about celebrating sexuality, centering needs, and asserting bodily autonomy. The total absence of the notion of pleasure as related to sexual health throughout the US health care system, as well as the bifurcation of sexual/reproductive health and HIV care, are infuriating and well-known barriers to reaching, serving, and supporting women living with HIV or with reasons for HIV prevention.
In the fall of 2021, our annual meeting of the Women's Research Initiative on HIV/AIDS (WRI) convened virtually to discuss the topic of Research at the Intersection of HIV and Women's Sexual and Reproductive Health. In the final report from the meeting, the more than 30 policy, research, and community stakeholders involved in the meeting concluded:
"[I]t is imperative that HIV policy and care center the sexual and reproductive health needs of women living with HIV, including their rights around sexual agency and pleasure and reproductive decision-making. There exists an opportunity for researchers, providers, and policymakers to reframe HIV prevention around the potential for it to act as a lever for increased sexual agency, autonomy, and liberation." – From "Issue Brief: Interrogating the Intersection of HIV and Women's Sexual and Reproductive Health" (PDF)
The results of that intensive gathering led to the 2022 launch of SHE/HER/THEY (which stands for Sexual Health Education/HIV Empowerment Resources/Treating HIV Equally), a program created to ensure that efforts to be more inclusive of women across HIV programming adopt a holistic approach that addresses the "whole woman." Among our first SHE/HER/THEY projects was a comprehensive fact sheet, launched concurrently in English and Spanish, on Sexual and Reproductive Health, Rights, Justice, Pleasure, and HIV.
With Black women and other women of color living with HIV from our staff and community advisory board (CAB) leading the way, The Well Project's work around pleasure has soared under the SHE/HER/THEY banner, including:
A fierce conversation on A Girl Like Me LIVE, our streaming video conversation series, between host Ci Ci Covin, The Well Project's program manager, and pleasure guru/CAB member Kim Canady (see below for video)
Powerful, well-attended workshops on sexual pleasure and HIV for community audiences at the US Conference on HIV/AIDS 2022 in San Juan, Puerto Rico, and the National Reproductive Justice Conference 2022 in Dallas, Texas
Poster selected as part of the guided poster tour for a provider audience at the International Workshop on HIV and Women 2023 in Seattle, Washington
Creation of a Sexual Health and Pleasure topic page on our website featuring articles, videos, blog entries, and more
We cannot wait to explore collaboration with The Pleasure Project, and even further integrate the vital Pleasure Principles into all that we do at The Well Project.
Onward toward pleasure for all!
Read the rest of this article at https://www.thewellproject.org/news-press/positive-pleasure-well-project-signs-pleasure-principles-welcomes-pleasure-project