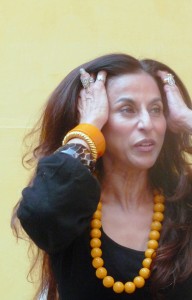 Shoobha De on sex, pleasure and how the world questions Indian womens' right to good sex – Live from Jaipur – Asia's leading Literature Festival
I'm here at the  Jaipur Literature Festival http://jaipurliteraturefestival.org/ and today was very excited to speak to Shobhaa De.For those of you who don't know her or live outside India…. Shobhaa is as popular as a  Bollywood star here http://shobhaade.blogspot.com/. She is, as she puts it, the author of "sari rippers" , the Indian equivalent of sexy bodice rippers, such as "Starry nights".. She has continually broken the mold – and challenged stereotypes by writing racy sexy fiction alongside offering critiques of Indian politics. And her popularity with younger women was evidenced by the crowds of young women clamouring for autographs afterwards in Jaipur.
She drew a huge crowd on to the front lawns of the palace on this sunny day in Jaipur.  She said that "sex is dirty in India and the scariest 3 letter word in India – even more so than god" and  that people and society collude to make sure women don't feel comfortable asking for sexual pleasure or enjoying it.  It's a theme that we are The Pleasure Project have often discussed can we see women's pleasure as a sign of their empowerment and an end to the expected passivity both inside their beds and outside their homes?
I was lucky enough to talk to her afterwards about this. I asked her about how the development and health industry continue to view Indian women as victims, either of violence, of rape – and that is often their only view of them. I said I thought this is especially true for poor India women. Shoobha agreed  "If you are poor you can't enjoy it and if you are rich you have to pay for it in the end". Basically women should not enjoy sex – and if they do – they should expect bad consequences.
I told her about The Pleasure Project and what we do – put the sexy back into safer sex- and how we need people like her to include safer sex in their sexy fiction. We need her creative magic to sex up safer sex in a way health professional can't. She agreed and said "I'll plan on that"
So watch this space and the next Shoobha De novel for signs of condom in saucy sex. If that happens I cannot see it being too long before Bollywood shows us condoms. As Shoobha said "Sex is a bomb waiting to go off in India"
http://www.ids.ac.uk/go/news/why-talk-about-pleasure
http://www.hindu.com/2010/01/25/stories/2010012557510100.htm